Principal's Message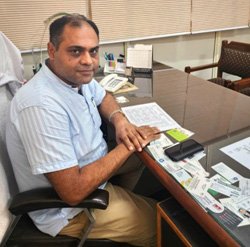 "There are lot of bad reasons to start a company. But there's only one good, legitimate reason, and I think you know what it is; it's to change the World."PhilLibin ,CEO EVERNOTE.
Yes, with this moto Very Respected Late Shri Dr Roop Lal Sharma started this prestigious institute Jammu Institute Of Ayurveda and Research, Jammu in the year 1999. Later other educational institutes like Trikuta Degree College, Trikuta College of Education (B.Ed) , Jammu College of Physiotheray (BPT), Shri Sain Charitable Institute of Paramedical Sciences (Paramedical), Trikuta College of Physical Education (B.P.Ed) also started, providing wide range of choices for students. It also has been providing lots of employment opportunities for the local as well as outsiders. I feel privileged to have joined as Principal.
The college has first class infrastructure in all the Departments, according to norms laid by CCIM, New Delhi. A student of BAMS and MD/MS(AYU) pursuing his/her studies gets trained by best faculties with good practical/clinical exposures. They also have field visits, medical camps, seminars, and conferences. Graduates and Post Graduates of JIAR become competent to serve the community as Clinicians, Teachers, Research Officers, Manufacturers of Ayurvedic Medicines both in private or Government sectors.
Taking the vision to greater heights, in coming days Post Graduation will start in other subjects. There is a serge for BAMS admissions for which the intake will be increased. The services in our Hospitals is being upgraded for best services to the patients.
The SAIN CHARITABLE TRUST follows this famous verse of Srimad Bhagvat Gita-
कर्मण्येवाधिकारस्ते मा फलेषु कदाचन ।
मा कर्मफलहेतुर्भुर्मा ते संगोऽस्त्वकर्मणि ॥
Principal
DR. Sharada
M.D. (Ayd)