About JIAR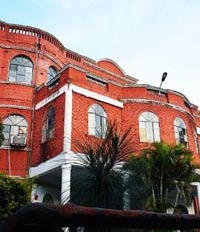 Jammu Institute of Ayurveda and research college (JIAR), a concern of Shri Sain Charitable Trust is providing its service in the field of Ayurveda since 1999, is one of the premier institute imparting quality education and Training in the field of Ayurveda, and is the only Ayurvedic college occupy a prominent place in the medical field of the J&K state. The college is having excellent, high qualified staff with sufficient experience and enormous infrastructure and equipment for the academic and personality development of the student. The college is situated at the beautiful landscape having all modern facilities of Library, Reading Room, Laboratory and Hostel both for boys and girls, Herbal Garden, Dissection Hall, Museum, Hostel, Canteen etc. which expanding of an area of One Lac Sq.Ft.
Our Institute is situated at Nardni in the lush green valley of mountains.
The distance of our institute from Airport, Railway Station and Jammu Bus Stand is as under:-
From Jammu Airport:- 22kms
From Jammu Railway Station:- 19kms
From Jammu Bus Stand:- 15kms
Hospital
College hospital is a 140 bedded and situated within the premises of the college.
OPD
In OPD more than 200 patients are treated everyday.
IPD facility
IPD facility is also available round the clock and Specialist doctors Paramedical staff is available to take care of the patients in IPD.