Director's Message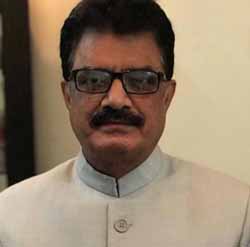 It gives me great pride and satisfaction to write about JIAR Nardni Jammu. We are passing though a tremendously changing process in Ayurvedic Education and Research. So that they can address the challenges effectively timely and meaningfully.

Jammu Institute of Ayurveda and Research, Nardni Jammu having a glorious past of about 21 years after closure of Govt Ayurvedic College at Jammu, has been the foremost institution of graduation and Post Graduation, i.e. higher processional Education and Research in J&K state alone.

This institution of higher learning has immensely contributed to the state and nation building by providing Ayurvedic and latest theoretical and practical knowledge. Our student have infiltrated into all sector be it, J&K Govt, private or public to serve the country in various capacities like medical officers, processional, teaching faculty etc.

Our competent faculty and the state of the art infrastructure like (teaching, laboratory, hospital etc) It is my strong belief that given an opportunity, the student of this temple of learning will prove an asset to the selecting in different states/govt sectors/PG Colleges in the country. I am looking for budding Ayurvedic Graduates and Post Graduates.

We are also looking for mutual association and collaboration with the other reputed colleges/University at various other levels for example guest lecture, seminars, workshops, CMEs and other medical projects etc and highly appropriate participation in this endeavors.


Jai Ayurved
Jai Dhanwantri
Director, Academic Affairs
Dr. Raghuvir Singh